What Can We Grow for You?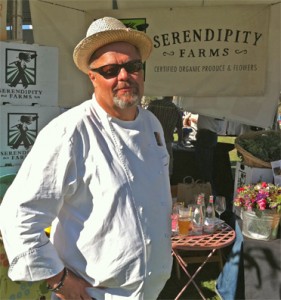 Our Partners
Dining
Bernardus Lodge (Carmel Valley)
The Covey at Quail Lodge (Carmel Valley)
La Balena (Carmel)
La Bicyclette Restaurant (Carmel)
Carmel Belle (Carmel)
Casanova Restaurant (Carmel)
Mundaka (Carmel)
Monterey Peninsula Country Club (Pebble Beach)
Cafe Lumiere (Monterey)
The Fish Hopper (Monterey)
Montrio Bistro (Monterey)
Jeninni (Pacific Grove)
Julia's (Pacific Grove)
Wild Thyme (Marina)
Arizmendi Bakery (San Francisco)
NOPA (San Francisco)
Zuni Cafe (San Francisco)
Retail
Bi-Rite Market (San Francisco)
Other Avenues Co-op (San Francisco)
Cornucopia Market (Carmel)
Earthbound Farm Stand (Carmel Valley)
Serendipity Farms has successfully partnered with dozens of chefs and retailers over the years to provide their kitchens and markets with a reliable supply of fresh produce picked at its peak. Having three distinct growing regions—on the fog-cooled coast, in sun-baked Carmel Valley and in temperate Aromas—allows us to provide a wide range of fruits and vegetables, including berries, citrus, specialty greens, heirloom tomatoes, roots, legumes, herbs, avocados and peppers. And when customers ask whether their food is local and organic, you can give them the answer they're hoping to hear.
Specialty Produce for Chefs
Our emphasis on specialty crops and heirloom varietals means you have access to unique, exceptionally flavorful ingredients that inspire imaginations and palates. Italian heirloom chicories, pea shoots, cardoons and guavas are just a few of the specialties we've grown in recent years. In an innovative move, La Balena of Carmel purchased a season's order up front in spring 2014 for heirloom greens grown exclusively for them.
Contact Jamie at info@serendipityorganics.com to see what we can grow for you.
What Chefs Are Saying
Kenneth MacDonald
Chef, The Covey at Quail Lodge
"As a chef it's my job to run around finding new farms and fantastic produce. I got a recommendation about Serendipity Farms, and a phone call later I was standing talking to Jamie at the farm. Six months later we are still buying produce, and it gets better and better. Jamie has amazing energy and passion, and it shows in the product."
Brandi Lamb
Chef, Cafe Lumiere
"I have to tell you that your produce is the best I have ever worked with. Our customers are going crazy over the baby beets. We did a Southern lunch special with your collards and everyone went nuts! Thank you for doing such an awesome job!"
Mohammed Tabib
Executive Chef, The Fish Hopper
"I buy Jamie's produce all the time. In the last couple of years she's been growing really tasty chard, beets and squashes, and nice herbs and greens. I have had so many compliments on how good the vegetables are."
Jay Dolata
Owner, Carmel Belle
"I feel so lucky to have Serendipity Farms right in my backyard. Freshly picked from the farm in the morning and directly into the mouths of my customers. You can taste the love and kindness they give their produce."